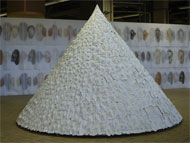 CLICK IMAGE to view works from exhibition.

THRUST – The 26th Biennial of Graphic Arts Ljubljana
Cupí and Birds of Clay Oil and Ashes
Tobacna's Factory
23 June – 2 October 2005
With its 26th installment, the Ljubljana Biennial of Graphic Arts celebrates its 50th anniversary! This year's exhibition carries the title Thrust. From 23 June to 2 October, eighteen international art institutions from all over the world will present eighteen separate shows in a single space in an attempt to answer the question: What are the graphic arts — and consequently, what is art in general — in today's world?

Proyecto'ace, an international art center in Buenos Aires, Argentina is presenting "Cupí and Birds of Clay Oil and Ashes" an installation by Rimer Cardillo which deals with the concept of the north and south habitats of the Americas.

Alicia Candiani, curator of the project says:

The installation of Rimer Cardillo at the Tobacna's Factory hosts a large wall covered with hundreds of silk-screened images printed on paper with clay, oil and ashes. The prints establish a dialogue with a self-standing piece in the shape of a cone: a Cupí. This cone is made by hundreds of hand-made embossed papers woven between hundreds of threads that shape it. The appearance of the cone is of a white eggshell, fragile and delicate. Technically the work began with a negative impression taken by plaster molds from the birds' corpses (negative printing), which generate other versions (positive printing) that evolve into pieces made of terra cotta, bronze or paper. Photographs of these pieces are digitally manipulated and finally silkscreen-printed in several layers on paper.
The artist uses printmaking processes but disregards the edition, the traditional printing matrixes and inks. Instead, he uses plaster molds, acetates, petrol, clay or ashes, all of them elements that are part of the reality of our time.

Candiani chose Cardillo as she wants work to explore the opening of printmaking technical and conceptual frontiers -as a necessary change to encompass the XXI Century political and artistic world transformations- while attempting to focus on Latin America as a territory of interrelated differences. The Uruguayan master Rimer Cardillo, who was a prize winner at the Seventeenth Ljubljana Biennial, in 1987 represents very well the contemporary Latin American artist involved in cultural displacements, who creates art "from" Latin America without necessarily living "in" Latin America. The artist was born in Montevideo and studied in his home city as well as in Berlin and Leipzig, Germany while currently lives between New Paltz and New York in the United States. He has been included in major international exhibitions such as Venice and Havana Biennials at the same time that he has participated in the printmaking circuit, displaying his works at Krakow, Norway, Taipei and Puerto Rico print biennials and triennials. Recently a retrospective of works on paper was exhibited at the Samuel Dorsky Museum of Art in New York.

For further press information on the show, please contact Alicia Candiani info@proyectoace.com.ar and/or see http://www.rimercardillo.com.