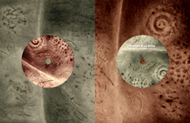 CLICK IMAGE to view works from exhibition.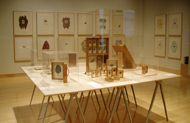 CLICK IMAGE for views of exhibition.

Rimer Cardillo
Impressions (and other images of memory)
Samuel Dorsky Museum of Art
October 16 - December 12, 2004
The Samuel Dorsky Museum of Art (SDMA) at the State University of New York at New Paltz has organized the first major exhibition to survey Rimer Cardillo's artistic career. Exhibited in the fall of 2004, this retrospective explored the accomplished artist's many contributions to printmaking and the graphic arts. Related sculptural objects and constructions were also on view -- all pointing to Cardillo's continued interest in critical issues that confront today's global society.
Cardillo -- an internationally known artist and master printmaker of Uruguayan descent -- currently lives and works in the Hudson Valley. Over a career that now spans four decades, Cardillo's work has been shown in major institutions throughout Latin America, Europe, and the United States, including one-person exhibitions at the Venice Biennale in 2001 and the Bronx Museum of the Arts in 1998. At London's Tate Modern, Cardillo recently gave a presentation about his work entitled "From the Purple Land to the Hudson River Valley."
Cardillo's art cannot be separated from his social commitment to freedom of expression, the preservation of indigenous cultures, the protection of endangered species, and the preservation of vulnerable environments. Through his art, Cardillo shares with viewers his searching inquiry into relations across borders and his rigorous investigations of continuities between historical epochs.
This landmark exhibition is available for travel to venues within the United States and abroad. A 60-page color catalogue with information about the artist and critical essays, in both English and Spanish, accompanies the show.
For more information please contact Dr. Karl Emil Willers at kewqkewq@aol.com